Sustainability Awards Finalist: The Gunditj Mirring Keeping Place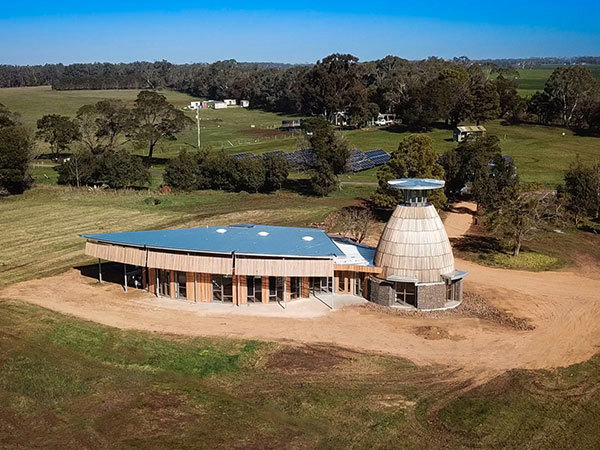 Sustainability Awards Finalist: The Gunditj Mirring Keeping Place
The Gunditj Mirring Keeping Place by Phillips/Pilkington Architects is one of the finalists in the Public Building category of this year's Sustainability Awards. Siniat is the proud sponsor of this category this year. We spoke to director Michael Pilkington about the project and achieving their sustainability goals.
Congratulations to you and your team for making the shortlist! Was sustainability always an important consideration in the design of this project?
We understood from the outset that the proposed location of the project dictated an 'off-grid' solution, even though it could have potentially been fed by overhead wires. Like many isolated rural properties, it must collect rainwater for domestic use. To provide the museum grade environmental conditions required to allow the transfer of historic cultural material from the Melbourne Museum, back to country, the power demands were higher than for a typical building of this size.
We were fortunate that our client supported this 'off grid' approach, making an early decision to opt for a ground-mounted PV array. The PV installation generates the required 100kW to power the building, with battery and diesel generator back-up. Two large 10kl tanks collect roof water, which is supplemented by pumped and filtered water from nearby Killara (Darlot Creek).
As client representative Damein Bell, of the Gunditj Mirring Mirring Traditional Owners Aboriginal Corporation (CEO at the time of design & construction) stated: 'Our Gunditjmara ancestors successfully practiced sustainability and adaptation with renewable resources for many thousands of years.' This project is an appropriate modern interpretation of this thinking.
What were the unique challenges you had to overcome with this project?
The unique design challenge was to generate a 'culturally appropriate' building design and form. Fortunately, we were able to access a vast body of archaeological research, dating from the 1970's, but which really accelerated in the 1980's and 1990's. This included research into settlements constructed in the valley below and historic aquaculture practices which led to the whole cultural landscape being UNESCO World Heritage listed in 2019.
Our focus became the generation of a design language that celebrated elements of the early traditional buildings of the Gunditjmara people: materials of stone and timber in the form of steep domes. We were inspired by research undertaken by Dr. Paul Memmott, in his book 'Gunyah, Goondie + Wurley'– The Aboriginal Architecture of Australia (UQP, 2007) illustrated with historical drawings and conjectural plans. Paul's work was informed by the groundbreaking research of Dr Heather Builth and others, which modelled the historic aquaculture use of Tae Rak (Lake Condah) and the circular stone habitations of the Gunditjmara.
This provided an exciting and 'weighty' legacy of design precedents to work with, leading to the generation of the dome form as the Keeping Place room, for the storage and viewing of cultural artefacts. The Business Centre was housed in a complementary 'radial plan'.
This project speaks of an inherent focus on people and culture. Was "social sustainability" a consideration in the design?
Our client, the Gunditj Mirring Mirring Traditional Owners Aboriginal Corporation Gunditjmara, is dedicated to the exploration and celebration of their cultural heritage to pass on to the next and future generations. This project was key strategy in achieving this goal, creating a repository for artefacts to be returned to country enabling elders and younger community members, the opportunity to interact with these artefacts promoting understanding of their deep history and connection to this place. The form of the building celebrates their achievements promoting a strong sense of identity while the building supports the development of economic opportunities for the Gunditjmara.
Sustainability is becoming a strong driver in architecture and the construction industry. Do you think suppliers and manufacturers are doing enough to deliver sustainable building materials that are also cost-effective to the market?
Utilizing timber as the predominant structural and cladding material substantially reduced the carbon footprint of the building. Other cost-effective materials such as corrugated iron used for roofing and for the 'off the shelf 'rainwater tanks are recyclable at end of life and through rainwater capture substantially reduce the depletion of one of Australia's scarcest and important resources, water.
We believe that maximizing the use of sustainably sourced timber needs to be a key plan in reducing carbon emissions. Timber has low embodied energy, is renewable and in its development, as growing trees, captures carbon.
Our project utilizes Victorian Mountain Ash for cladding boards and battens. Locally grown radiate pine is used extensively for wall-framing. All those involved in the built environment have a responsibility to promote carbon neutral buildings.
We hope through government policy and legislation that the range of sustainable products on the market will dramatically increase supporting the elimination of the estimated 40% of Australia's carbon 'footprint', that the building industry currently generates.
The market is not moving quickly enough towards the emissions reduction goal with budget pressures and value management continuing to undermine the achievement of these goals. We need to be designing for long term use, not obsolesce, promoting reuse and recycling wherever possible, embedding passive and regenerative design to create a sustainable future.
What will winning an Award with a sustainability focus mean for you and your team?
Our team would be enormously thrilled and honoured to receive a Sustainability Award for this project. But the award is really for the Gunditjmara who conceived of this project many years ago. We were privileged to be able to be involved and play our part in the realization of Stage 1 of a two-part Keeping Place & Business Centre.
We were privileged to be able to generate the design and bring it to fruition with the builders, A W Nicholson. That such a culturally specific and place-making design was able to achieve so much from a sustainable viewpoint is thrilling.
Over the time that we have been involved here, Gunditjmara have commissioned a separate suite of tourism infrastructure projects that celebrate the history of their occupation. Tae Rak (Lake Condah) has a new boardwalk and Visitor Centre, the Budj Bim (Mt Eccles) volcano has a new viewing look-out and down in the Killara (Darlot Creek) lava-flow valley is a special place where you get to experience the remnants of the circular stone dwellings up close.
These projects projects have been beautifully realized by Cooper Scaife Architects from Hamilton. We mention them as demonstration of the excellent stewardship that the Gunditjmara have applied to tourism, cultural heritage, land management and social sustainability.
As a conclusion, we believe our practice has been championing sustainable design since it's inception, as evidenced by the 1995 Monarto Zoo Visitor Centre, outside Murray Bridge, the 1997 Innes National Park Visitor Centre at Stenhouse Bay and the 1999 McCormick Centre for the Environment outside Renmark. Receiving this award would validate our commitment and promotes the development of sustainable design.
Photography by Terry Hope Photography.