Sustainability Awards Finalist: Pimpama Sports Hub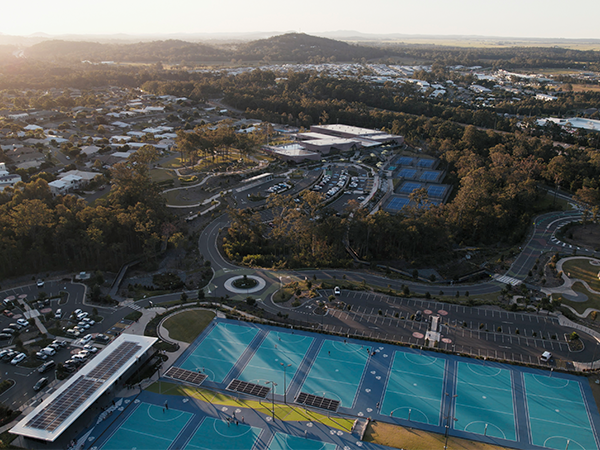 Sustainability Awards Finalist: Pimpama Sports Hub
Pimpama Sports Hub by Liquid Blu Architects is one of the finalists in the Public Building category of this year's Sustainability Awards.
Siniat is the proud sponsor of this category this year.
We spoke to associate Natalie Scicluna about the project and achieving their sustainability goals.
Congratulations to you and your team for making the shortlist! Was sustainability always an important consideration in the design of this project?
Thank you! We are honored to have our project featured alongside an incredibly impressive shortlist. Sustainability was central to the design of the Pimpama Sports Hub since the inception of the project. Our client brief included ambitious targets such as the precinct being self-sufficient from an energy perspective, which was an industry-leading concept. We are proud to have bought that vision to life, despite the usual challenges that any project brings.
What were the unique challenges you had to overcome with this project?
Aquatic Centres are typically very energy-intensive building typologies, with peak demand being in winter due to pool heating. This is the opposite of most buildings especially in Queensland, which typically experience peak energy demand in Summer. Our primary means of generating energy on site was via solar panels, which obviously produce most energy during summer months. An arrangement with the local energy infrastructure organisation ensured that the offset between production and demand could remain balanced. The result was that the precinct was able to be designed to be energy efficient on an annualised basis, whilst being able to supplement the local energy needs of the rapidly growing area it was situated.
The site's topography also presented many unique challenges – the 14 hectare site had level differences of up to 15m, with a watercourse and protected vegetation buffer running directly through the middle of the site, essentially cutting the site in two halves. We worked extensively with our team including civil engineers, ecologists and landscape architects to achieve a result which minimized the footprint of the development, maximized the retention of mature vegetation, and prioritised a natural filtration stormwater solution.
Being a sports hub, the project has an inherent focus on people and wellness. Was "social sustainability" a consideration in the design?
Both social and economic sustainability were seen as equal pillars to environmental sustainability, when considering the design of the precinct. The design of the centre was specifically curated to co-locate a number of community offerings in the one facility, promoting connection and improving the quality of life for all users.
The dedicated community centre offers a number of spaces to run community based classes and events. The health and fitness centre further promotes healthy and active lifestyles. Learn-to-swim programs and swim club training is facilitated at the aquatic centre, along with school carnival events and private rehabilitation consultations. There are several community facilities which are free to access and engage within the site, empowering socio-economically disadvantaged community members and visitors. These include:
1100m fully accessible and compliant pathway loop around the site for walking, running, and cycling. Pathway loop includes raised boardwalk sections offering connection to the site's bushland qualities
Community park with playground and BBQ facilities
Open events space and ampitheatre
Netball Courts
The project includes a café run by a local social enterprise group, empowering disadvantaged persons. The contractors, ADCO, have a dedicated program to encourage employment of first nations persons, as well as a program promoting the mental wellbeing of their employees.
The project consulted a specialist access consultant, who advised on enhanced access provisions, promoting universal design. In this way, the Pimpama Sports Hub achieved accessibility above and beyond code requirements. As an example, this included provision for the employment of persons with disabilities through equitable access to back of house spaces such as administration and kitchen areas. Since opening, the Pimpama Sports Hub has proved to be an invaluable community asset, with visitation data exceeding projections set at the outset of the project.
Sustainability is becoming a strong driver in architecture and the construction industry. Do you think suppliers and manufacturers are doing enough to deliver sustainable building materials that are also cost-effective to the market?
In the past decade or so, as designers we have seen sustainability as a concept moving from a 'nice to have', to something which is a fundamentally critical element in any successful project. The availability and affordability of sustainable building materials plays a key role in making sustainable buildings accessible. Whilst we appreciate the direction that the materials market is moving in acknowledging the need for sustainable materials options, we still see room for growth in this sector and are always on the lookout for products which are in alignment with the sustainable outcomes we look to achieve.
What will winning an Award with a sustainability focus mean for you and your team?
Liquid Blu are committed to a focus on sustainability in every project we undertake, irrespective of any independent project targets. We seek opportunity to increase the sustainability of our company and projects in every aspect of our practice. Winning an award with a sustainability focus would be a great acknowledgement and reflection of the practice's values, and the incredible project outcomes we have been able to achieve alongside our clients.
Photography by CFJ Photography & Ravens At Odds